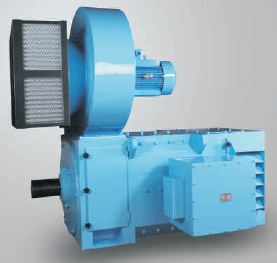 IEC was the first company to make Laminated yoke DC Motors popular in India. IEC offers DC Motors of Open type, Totally enclosed, Heat exchanger (Air & Water); Foot or Flange mouted machines; Class F/H Insulation; Single/ Double shaft extensions, with accessories like TG mounting, Filters, Protections for windings and Bearing, Space heaters, etc.
Only a few companies in the world boast IEC's range of standard DC Motors in frame sizes 80-900 with output torques ranging from 1.2 N-m to 162000 N-m and with output powers ranging from 0.37 KW to 2600 KW.
IEC produces a full range of AISE and IPSS series motors used for auxiliary drives in Steel Mills. IEC also produces different DC Motors for use in Indian Railways.
Standard Range:
Small : Frame 80 to 160

Medium : Frame 180 to 280

Large : Frame 315 to 500

X-Large : Frame 560 to 900
Mill Duty DC Motors:
Range of DC Motors
SMALL

MEDIUM

LARGE

X-LARGE

Mill Duty

Frame Size

80, 100, 112, 132, 160

180, 200, 225, 250, 280

315, 355, 400, 450, 500

560, 630, 710, 800, 900

802,803,804,806,808,
810,812,814,816,818

Standards

BS5000,IS4722, IEC60034

BS5000,IS4722, IEC60034

BS5000,IS4722, IEC60034

BS5000,IS4722, IEC60034

AISE No. 1-1991, IPSS:1-03-002-94

Mounting

B3,B5,B35,V1

B3,B5,B35,V1

B3,B5,B35,V1

B3

B3

Brochure